It's my first ever pair of boots here in Canada. I bought this at Mark's at the Canadian Tire at a sale price of $74.99 from $99.99.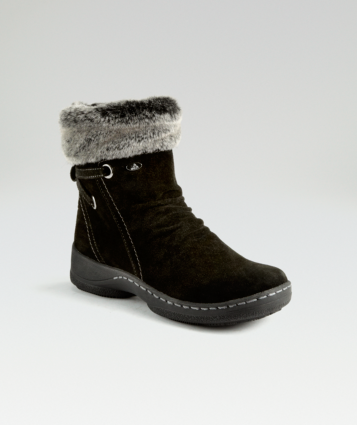 This is the product description that I got from the Mark's online store:
These stylish faux fur lined low casual boots are a great addition to your winter boot wardrobe.  Built with TMAX insulation and waterproof leather with sealed seams, they are sure to keep you warm and dry in the winter months.
*Waterproof leather with sealed seams
*Quad Comfort cushions, supports and provides shock absorption
*HYPER-DRI HD2  keeps your feet dry from the inside out
*T-MAX insulation to regulate the temperature of your feet and allow moisture and excess heat to escape
*Felt insole with metallic cold reflector
*Cushioned insole
*Flexible midsole
*EVA cushion insert
*Side zipper style
For a first-time boot wearer, it was pretty heavy, but as I used it more often, I find it more comfortable and light. I wear it with my boot cut jeans and my skinny jeans too. I just love these boots!
But hubby said I should have bought the tall boots of the same brand to keep my legs warm too during the cold days, and I guess he was right. But who knows, later on, soon, I will be able to buy a new pair of boots (the tall ones)
.